It's time to sign up for the Southborough Senior Center's special events in September and October. The center will be hosting five special events on-site and coordinating two off-site.
Events include an outing at Hanover Theatre (minus the transportation), the annual Falconi Golf Tournament, Bingo, a musical luncheon, movie matinees, and the return of a popular floral arranger.
Attendance will be limited and registration is required. Signup started yesterday morning. When I checked in around noon, all programs still had space left.
Below are the details. (You can also find additional fall classes and Senior Center news in their newsletter here.) To register for any of the events, call 508-229-4453.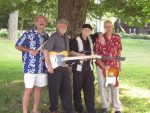 Musical Luncheon
September 15th at 12:00pm (Suggested Donation of $5)
Enjoy a lunch and entertainment on the Senior Center lawn:
We are thrilled to have the band "Flashback" come entertain us on the lawn for an "Oldies Rock n' Roll" adventure. Flashback is a four piece musical act, performing for 14 years and very much enjoyed in the MetroWest area. Flashback performed for us years ago at one of our holiday parties and it was a great time. They have opened for many Red Sox games and numerous community based venues. We will be serving a Chicken Supreme lunch before the performance from Kennedy's Market. Sign up early for this fun program since space is limited. We will need to adjust to a drive through luncheon if the weather does not cooperate—keep your fingers crossed.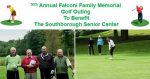 Falconi Golf Tournament at Juniper Hills
Monday, September 20 (8:00 am breakfast and 9:00 am shotgun start)
For more details on the big annual fundraiser, see my prior coverage here.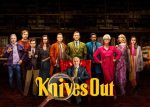 Movie Matinee – Knives Out
Wednesday, September 29th at 12:30 (Suggested Donation of $5)
A light lunch will be served prior to the PG-13 movie. The lunch is turkey and cheese sub, chips and a dessert. The movie is a comedy, drama, mystery, thriller with brief violence and some strong language:
When renowned crime novelist Harlan Thrombey (Christopher Plummer) is found dead at his estate just after his 85th birthday, the inquisitive and debonair Detective Benoit Blanc (Daniel Craig) is mysteriously enlisted to investigate. From Harlan's dysfunctional family to his devoted staff, Blanc sifts through a web of red herrings and self-serving lies to uncover the truth behind Harlan's untimely death.
Bingo
Wednesday, October 20th at 1:00pm
The newsletter invites:
Come join us for a wonderful afternoon of Bingo, fun, and prizes. Our Bingo Leader, Bob Myers will start selling cards promptly at 1:00pm. Bingo will begin once everyone has their cards. Snacks will be provided at break time!
Tina Bemis – Floral Arranging
Tuesday, October 5, 2021 at 1:00 pm (Suggested Donation of $15)
Seniors will learn to make fall wreaths in this workshop:
Attach fresh cream, mauve and chartreuse flowers to a straw frame to create a colorful, indoor wreath. The flowers will dry in a few days into muted tones that will hold their color for years. When it finally gets too dusty you can spray paint it gold for Christmas.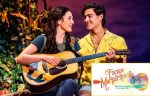 "Escape to Margaritaville" at Hanover Theatre
Thursday, October 21st at 7:00 pm (Suggested Donation of $35)
Note: Due to Covid numbers, this won't be a reserved bus trip. But seniors who can arrange their own transportation are welcome to purchase the discount tickets from the Senior Center. (Thanks to supplemental funding from the Council on the Aging, the tickets are being made available at an over 50% discount.)
Here is the theater's description of the musical based on Jimmy Buffet songs:
Welcome to Margaritaville, where people come to get away from it all, and stay to find something they never expected. With a book by Emmy® Award winner Greg Garcia ("My Name is Earl," "Raising Hope") and Emmy® Award nominee Mike O'Malley ("Survivors Remorse," "Shameless"), Escape to Margaritaville is a musical comedy featuring both original songs and your most-loved Jimmy Buffett classics, including "Fins," "Volcano," "Cheeseburger in Paradise" and many more. USA Today calls it "A little slice of paradise!" and Entertainment Weekly raves, "It will knock your flip-flops off!" So don't let the party start without you.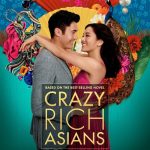 Movie Matinee – Crazy Rich Asians
Wednesday, October 27th at 12:30 (Suggested Donation of $5)
A light lunch will be served prior to the PG-13 movie. The lunch is an Italian sub, chips and a dessert. The romantic comedy includes some suggestive content and language:
Based on Devin Kwan's best-selling novel, Crazy Rich Asians follows New Yorker Rachel Chu (Constance Wu) as she accompanies her longtime boyfriend, Nick Young (Henry Golding), to his best friend's wedding in Singapore and meets Nick's family for the first time. It soon becomes clear that the only thing crazier than love is family.