An upcoming photography exhibit at The Hanover Theatre will feature work by Southborough's Chelsea Bradway.
Readers may be familiar with Bradway's work from past posts, including my coverage of her Southborough Front Steps project. But Bradway isn't the only community member involved. If you visit the exhibit, you may recognize some faces on the walls. (She shared an example below right.)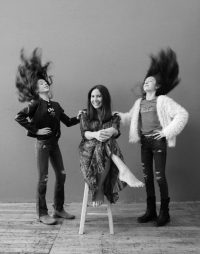 The exhibit is titled "Be a Lady they Said" is being showcased by ArtsWorcester. The organization promotes:
Bradway's photographs capture unique images of female empowerment in a challenging age. Women of different ages and races were invited by the artist to bring important personal objects into her studio and to pose for black and white portraits in a stark, simplified environment. The monochromatic, bare setting sets off the joy and confidence radiated by the subjects, and their diversity of strength, power, and presence.
Bradway informs me that this exhibit represents just a portion of her work under the theme. 18 of the 100 photos will be on display.
The public is invited to a reception for the exhibit on Sunday, September 19, from 3:00-5:00 pm in Franklin Square Salon at The Hanover Theater in Worcester.
If you can't make it that night, it's not your only opportunity. The exhibit is opening September 18 and will run through December 11. (Currently, ArtWorcester's public gallery hours run Thursdays through Sundays, 12-5 pm with no appointments necessary. To verify that is still the case after the exhibit opens, you can check the hours here.)