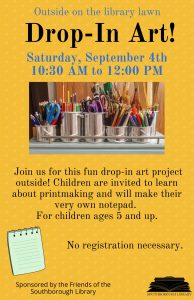 The Southborough Library is bringing back art instructor Lanting Huang-Truong. She'll be holding a free Drop-in Art session for kids tomorrow:
Join us for this fun drop-in art project outside! Children are invited to learn about printmaking and will make their very own notepad. For children ages 5 and up. No registration necessary.
The fun takes place Saturday, September 4th from 10:30 am to noon. The session will take place on the Libary's lawn. Good news, the forecast looks lovely.
The event is sponsored by The Friends of the Southborough Library.