Starting tomorrow night, the Southborough Rotary Club is turning St. Mark's "Front Meadow" back into a destination for foodies on Wednesdays. (Though, just for four weeks.)
The 4-part "Food Truck Festival" will kick off Wednesday, September 15th, 3:30 – 6:30 pm. The event will repeat on Wednesdays through October 6th.
Each week, the Rotary will feature a changing lineup of four food trucks selling dinner. You can top off your meal with dessert from a truck selling ice cream scoops.
This week's lineup is Pangea Cuisine, Anzio's Pizza, The Dogfather, and Travelin' Bones Barbecue
There is no admission charge to attend. In fact, if you donate to the cause they are supporting this year, you can get free grub in return:
Rotary Club of Southborough is pleased to announce Main Street Bank is sponsoring a campaign to help our local homeless veterans during the 2021 Rotary Club Food Truck Festival. In coordination with the Sweat4Vets organization of Marlborough, Main Street Bank will provide Ten Dollar ($10.00) vouchers to anyone who donates a New England Sports Team themed hoodie or sweatshirt at the festival. The vouchers can be used at the participating food trucks to purchase any item on their menu.
For more details on the Sweats4Vets drive, click here.
That drive isn't the only good work Rotary supports. So, I'm sure they'll also be happy to take financial donations from people who want to support their sponsorship efforts. In addition, they're allowing The Friends of the Southborough Library to use a table for their Fudge Fundraiser. (You can find those details here.)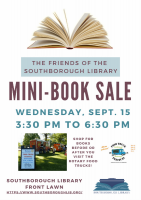 Meanwhile across the street, the Library will be holding a mini Book Sale. (They need to make room to organize for the big sale on Heritage Day.)
Still, the main purpose for the festival is putting on a feel good, community event downtown.
For details on what's happening in the following weeks, you can look for updates on Rotary's Facebook page.