I'm sharing the latest details on tonight's Food Truck Festival. The "rain or shine" event* is this afternoon 3:30 – 6:30 pm. (Looking at the latest forecast, I'm hopeful that showers will pass before the event starts. At the very least, it should be done before dinner time.)
There is no admission charge to attend the festival on St. Mark's Field (at Route 85 & Main Street). In fact, if you donate to the collection drive they are supporting this year, you can get free food in return.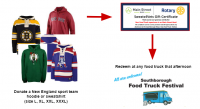 Bring a NE Sports Team themed hoodie or sweatshirt for a $10 food truck voucher from Main Street Bank. (Donated sweatshirts will be distributed to homeless veterans.) For more details on the Sweats4Vets drive, click here.
This week's main food truck lineup is Say Cheese, Teddy's Lunch Box, The DogFather, The Grub Guru. As always, you can top off your meal with a cone or sundae from Trombetta"s Farm Ice Cream Truck. I've included examples of some of their menu offerings below.**

The collection drive isn't the only good work Rotary supports. I know they're also happy to take financial donations from people who want to support their sponsorship efforts. (They also sell items to support causes.)
In addition, they're allowing The Friends of the Southborough Library to use a table for their Fudge Fundraiser. (You can find those details here.)
Still, the main purpose for the festival is putting on a feel good, community event downtown. They succeeded again last week. Check out my quick glimpse of last Wednesday night below:
For details on what's happening in the following weeks, you can look for updates on Rotary's Facebook page.
*I'm told each night of the event is rain or shine, but I'm guessing that's within reason. If weather for one of these events is forecast for torrential rain/thunder for the entire three hours, I'd look for news on cancellation/postponement. Fortunately, that's not the forecast for this afternoon/evening!