Fay School brought back its Farmer Markets this fall. They reached out with information on this Saturday's event. It turns out, they launched mid-September and are running (mostly) weekly through October 23rd.
The market features a variety of vendors each week. On October 2nd, there are eleven vendors lined up. Goods for sale will include: baked goodies, coffees and beverages, produce, eggs, honey, flowers, salmon, handmade soaps and lotions, knit textiles, home décor, art, multicultural books, and much more.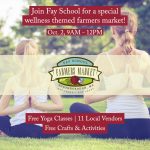 To add to the fun, the markets include themed entertainment for kids. This weekend's theme is "Wellness":
Join Shuba Wavikar from Absolute Yoga for three yoga classes during the morning, color your own mandala, and relax to live acoustic music by Luke DeRoy.

Yoga Schedule

Mommy and Me (children under 1) from 9:30-10:00 am
Preschool (children 1-3) from 10:15-10:45 am
School-Age (children 4-8) from 11:00-11:30 am
Upcoming themes are "Festive Fall" on October 16th and "Halloween" on October 23rd. (There is no market on October 9th.)
The market takes place from 9:00 am – noon in Upjohn Circle. (Parking is available behind Brackett House at 31 Main Street. )
This week's vendors are:
B E self-care, Barefoot Books, Blue Bird Weaving, Honey Nut Farm, Jackson Effie Coffee House, Kinnari Sanghavi Studio, Laurie's Art Studio, One Bite Bakery, Papa's Catch Salmon, Wild Poppy Farm, and Yummy Mummy Bakery
For more details on Fay School's Farmers Markets, click here.
*Anyone interested in becoming a vendor can click here for info.
Updated (9/27/21 2:27 pm): I initially referred to a weekly event. There is no market on October 9th, the long weekend.