[Ed note: My Southborough accepts signed letters to the editor submitted by Southborough residents. Letters may be emailed to mysouthborough@gmail.com.
This letter was submitted yesterday afternoon, which is why Monday's meeting is referred to as "last night".]
To the Editor:
I wanted to share a few thoughts on last night's town meeting as I was quite shocked at the level of disinformation proponents of the Downtown Initiative used to swing the vote.
The first has to do with affordable housing. As a member of the Historical Commission, I was on the subcommittee that wrote the design guidelines. Lisa Braccio headed the group. And in all those long hours, neither she nor anyone else ever once uttered the word "affordable housing." Those words do not appear in the bylaw, nor in the guidelines. Nowhere in fact. But late in the game, proponents decided that portraying this as a remedy to our abysmal affordable housing situation would help the bylaw pass. And it worked. I have talked to various developers who specialize in this type of construction, and they assure me that a density of at least 20 units is required to make affordable housing affordable to both the buyer and the developer. There is not a single site in this new business district that could handle that density. There are, however, numerous sites around town that could—including South Union School that sits empty, costing tax-payers tens of thousands of dollars each year. It is quite ironic that members of the BOS should lecture the voters on the importance of affordable housing while making no progress on parcels entirely under their control.
Secondly, Mr. Healey's repeated assurance that the zoning change was "cost neutral" and the sewage issue was a "red herring" is simply disingenuous. Even a minute change in zoning costs something—if nothing else, the cost of promulgation. The EDC/BOS commissioned a very thorough report on the sewage issue by the engineering firm Weston and Sampson, which outlined an elegantly simple design: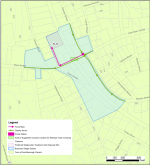 Essentially the waste flows by gravity down the green arrows to a pumping station under Main Street, which then sends the waste a new processing plant on parcel 54-40
But you didn't get to see this report last night, because it was conveniently buried by both the EDC and the BOS. However, I did some digging, and here's what the experts said:
There is only one lot that is buildable using our current septic guidelines on the corner of Newton and Main, with or without zoning changes.
Actual development in the business district would require the installation of a sewage treatment plant
There is only one place for that plant, the 54-40 parcel owned by NStar
At the time of the report, the cost of the project was estimated to be $3,298,000 – excluding the costs of acquiring the NStar land through eminent domain; the cost of tearing up and replacing the CSX crossing; the cost of tearing up the newly finished Main Street; individual costs of 15-30K per user to hook up to the system; PLUS, the annual costs for running the plant itself. All in all, probably close to 5 million, plus annual running costs.
How would this all be paid for, you ask? Here are the options Weston and Samson recommended, and I quote:
Town-wide Property Tax Fund – Costs can be recovered from all property owners within the town through the general tax fund.
Water Bill Surcharges/Sewer Enterprise Account Charges – Surcharges on water bills, charged
according to water usage, can be used to offset a portion of the capital costs.
Infrastructure Investment Fund – A real estate tax surcharge of up to 3% can be set aside into a Municipal Water Infrastructure Investment Fund, outside of Proposition 2½, as allowed through state legislation. (2014 legislation M.G.L. Chapter 40, Section 39M)
They estimated that the tax option for just the base $3M to be roughly $50 per household per year. So total costs would probably run close to $100/household annually.
Does that seem "cost neutral" to you?
To be clear, I am actually for this proposal. I want a renewed downtown, and I think there might be money available from the forthcoming federal infrastructure bill to pay for these sewage improvements and avoid a raise in rates, but there has been no leadership from either the BOS or the EDC on finding the funding, nor making the necessary infrastructure changes now as we spend hundreds of thousands of dollars to finish the lower part of Main Street. In fact, when asked last night by Mrs. Phaneuf if such planning was being undertaken, Mr. Healey had no response, because the simple answer is no—a failure that will add untold thousands of dollars to the final tab.
In sum, we can make all the feel-good zoning changes we want, but if we cannot implement any new development without spending millions of dollars of public funding, our town leaders should be forthright enough to say so, instead of hiding behind misleading banners of "affordable housing," and "cost neutral propositions." There is a very good reason why there has been "no new construction downtown in 40 years," and that's because no private enterprise has ever had, nor will ever have, the desire or wherewithal to solve our sewage problems for us, and last night's Pyrrhic zoning victory isn't going to change that sad reality.
Michael Weishan, Chair
Historical Commission