The Southborough Library is continuing its partnership with a holistic health coach to offer virtual workshops on a variety of topics related to Wellness. They are open to anyone ages 12 and older.
Southborough's Jill Vroman (of Jill Vroman Fitness & Wellness) has been donating her time to offer the free sessions to the community. The next session is "Emotional Toolkit".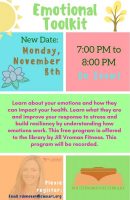 The session takes place on Monday, November 8 at 7:00 pm. To sign up, email rdonovan@cwmars.org. (It was postponed from the original time opposite the Special Town Meeting.)
An email from Vroman promotes:
Sweaty palms, pounding heart and the feeling of doom washed over me.
Yes, that was a familiar feeling.
But almost worse was the always ever-present antennae I had up for any possible stress.
When would this happen again?

In my next free workshop, learn about your emotions and how they can impact your response to stress. You can ease anxiety when you understand how emotions work.

Join me to work on growing your resiliency towards stress!