Algonquin Regional is inviting the public to purchase tickets to their fall musical, Seussical.
The play will be performed in the school's auditorium the evenings of Thursday, November 18 – Saturday, November 20 at 7:00 pm. A matinee will also be performed at 2:00 pm on the 20th.
[Worth noting, the high school students aren't the only ones in our district getting ready to put on the play. A shorter version, Seussical Jr., is Neary's production this year. The 4th and 5th graders are scheduled to put on their play (under direction of SkyRise Theater) next month.]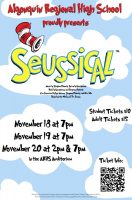 The fantastical story is a family friendly one that brings to the stage several of Dr. Seuss' most well known characters:
The Cat in the Hat tells the story of Horton, an elephant who discovers a speck of dust that contains the Whos, including Jojo, a Who child sent off to military school for thinking too many "thinks." Horton faces a double challenge: not only must he protect the Whos from a world of naysayers and dangers, but he must guard an abandoned egg, left in his care by the irresponsible Mayzie La Bird. Although Horton faces ridicule, danger, kidnapping and a trial, the intrepid Gertrude McFuzz never loses faith in him. Ultimately, the powers of friendship, loyalty, family and community are challenged and emerge triumphant.
For Algonquin's play, the tickets are $10/student and $15/adult. They can be purchased here.
The Northborough-Southborough Musical Association is using the production as a fundraising opportunity.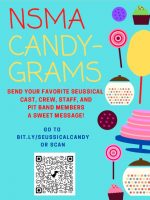 The audience/public can purchase candygrams to performers and those behind the scenes:
Candygrams for Musical Performers, Stage Crew and Pit Band

Seussical the Musical at ARHS is November 18 and 19 at 7pm and November 20 at 2pm and 7pm. Please show your support for these participants by purchasing a $5 Candy Gram that will be delivered to a student after the designated performance. Proceeds go to the NSMA which supports scholarships and music education in the Northborough Southborough district. Questions? Contact nsmatreasurer@gmail.com