I hate to bring it up, but. . . Christmas celebrations and festivities aren't that far away. The biggest day for holiday celebrations and sales is in less than 4 weeks, Saturday December 4th.
Stay tuned on details for events like the Annual Kids Shop. Today, I'm focusing on the big news about the big guy. The traditional Santa Day event is back this year (with some safety precautions).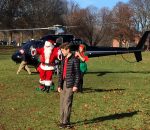 Santa Claus will be making his annual pre-Christmas trip to town. Weather permitting, he'll be flying in by helicopter again.
(As I always explained to the young ones – reindeer can only fly on Christmas Eve, and the North Pole is quite a long trip by land. It just makes sense.)
The helicopter lands on the St. Mark's field at the corner of Routes 30 and 85 at noon. The jolly old elf emerges to greet the crowd buzzing with excitement. After a few minutes, he works his way through to cross the street to the Community House.
Inside is where he fulfills his real purpose – to find out from children what they want for Christmas (while grownups snap pictures). Families can enjoy activities while they wait their turn.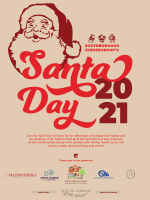 The annual event is organized by Southborough Kindergroup. Here is their announcement of this year's details:
It's the most wonderful time of the year! Please join Santa and his elves for a fun and festive afternoon of holiday fun hosted by Kindergroup! Santa will be making his signature entrance in a helicopter across the street on St. Mark's field accompanied by his head elf.

After touching down and greeting the crowd, he will be hosting holiday themed activities across the street at the Community House. Activities include ornament making, pictures with Santa, Carolers, character visits, food, drinks and other entertainment. We look forward to seeing the families of this community out for an afternoon of holiday cheer!

Please note that masks must be worn inside the Community House at all times and the line for the event will be outside this year.
The event will run until 3:00 pm.
Updated (11/17/21 8:04 am): An updated flyer was provided