Southborough Board of Health updated their Covid figures as of this afternoon. There were 22 new cases confirmed in one week and 39 cases in two weeks.
33 cases were labeled active out of the Town's cumulative of 764 cases throughout the pandemic. For more details, click on thumbnails below:
The past week's Covid cases represents an increase since the most recent report by Mass Dept. of Public Health (issued November 23rd)*. That had indicated 26 cases in town over two weeks. In that report the % of tests confirmed positive was 1.43% (lower than the prior report). The Average Daily Incidence Rate per 100,000 was 19.2 (also lower than the prior period).
For details, including a look at the Average Daily Incidence Rates in our region as of that report, click on thumbnails below:
NSBORO New Cases & Transmissions
Daily Case Counts for the past 5 days report 14 new cases on top of 19 cases in the District Dashboard for the week. Most are in Northborough.
In the Dashboard, there were two possible in-school transmissions last week.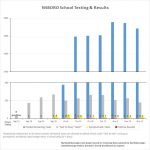 NSBORO Testing
The pooled screening confirmed 6 asymptomatic student/staff as infected in the week ending November 24th.
1 other case was identified through the school's "Test to Stay" program, and another through a test for someone with symptoms.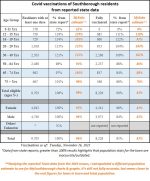 Vaccination rates
As of last week's report by Mass Dept. of Public Health on vaccinations by town – 9,805 Southborough residents had received shots (as of November 16th). By the third week the shots were available, about 65% of 5-11 year olds received a shot.
See demographic details below:**
(For more details on those groups, plus race/ethnicity, click here.)
Testing and Vaccine opportunities
For those looking for information on getting tested or vaccines, here again are the links for where to find info on:
*The state's report was based on tests taken in the 14 day period ending on the prior Saturday.
**Population figures are just estimates. I use demographics extrapolated from 2019 census data since the state's population data was clearly outdated.