A few years ago, the Southborough Library organized and hosted monthly meetings of a Cookbook Club. The only fee to participate was bringing a dish to share.
For obvious reasons, the activity was put on hold in March 2020. There were some virtual meetings in 2020, plus an outdoor gathering in September. Now it's back with a shift based on public feedback. Meetings are moving from weeknight evenings to Saturday afternoons.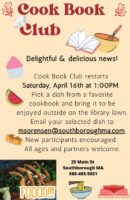 The first gathering will be on the Library's lawn, on Saturday, April 16th at 1:00 pm.
The Library promotes that new members are welcome, as are all ages and partners.
If you'd like to participate, simply pick a recipe from a favorite cookbook and let coordinating staff member Marianna Sorenson know what you plan to whip up. (She tracks what everyone is making in order to avoid overlap.)
Email her your selected dish, or any related questions, at msorensen@southboroughma.com.
Of course, the Library is happy to help out with the cookbooks. Click here to look up their large selection you can borrow from.