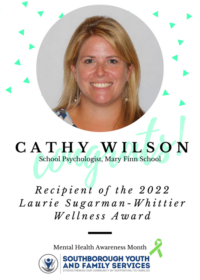 Yesterday was the last day of Mental Health Awareness Month. The Southborough Youth Commission used it to announce the 2022 winner of their annual Laurie Sugarman-Whittier Wellness Award.
The honor went to Cathy Wilson, School Psychologist at the Mary Finn School.
From their email announcement:
Cathy's nomination letter described her dedication to providing exceptional assistance to school families. Her kindness and reassurance have proven to be invaluable to families during difficult times. Cathy brings hope and comfort to so many young students and their families in Southborough and is an incredible asset to this community.
The annual Wellness Award honors community members for one or more of the following:
Someone that has promoted the mission of making Southborough a better place for all
A person who is a mental health or human services advocate
An individual that embodies wellness and resilience after overcoming challenges and adversity
Or someone that has worked in some other capacity to promote human welfare in Southborough.
Southborough Youth and Family Services' Director Sara Cassel publicly shared the news of Wilson's recognition at last night's Select Board Meeting. Cassel said that Wilson's kindness was especially important over the past few years. She shared remarks from Clayton Ryan, Principal of the school for PreK-1st graders. They included:
Cathy is one of the most student-centered people I know. Her commitment to making all students feel safe and secure is unsurpassed. . .

She promotes individual differences and how we can all learn from one another. Cathy is an expert in helping students understand their own feelings and the feelings of others.
The annual award was established by SYC in honor of the former director of SYFS. According to the announcement, Laurie Sugarman-Whittier:
dedicated over 30 years of her career to providing care and support to residents of Southborough. Laurie had a strong commitment to mental health education, and to fostering a nurturing and safe place for those dealing with mental health issues. Though Laurie retired in 2016, she left a legacy that is still evident in our community.
Past recipients were: