Key Autism Services is marking the recent opening of their clinic in Southborough by inviting the public to an Open House. The event is this Saturday, June 11 from 11:00 am – 1:00 pm.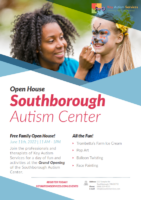 To entice families with kids, they'll be offering ice cream, face painting, and balloon twisting. But the main point is to offer parents a chance to come see the facility and ask questions.
So, what is Key Autism Service? A message from their Director explains:
We provide applied behavior analysis (ABA) to individuals diagnosed with autism spectrum disorder. We provide home, community and center based behavioral services. We have been providing behavioral services in MA since 2015 in the home and community settings. We recently opened our center, in Southborough, which is a clinic for young children with autism.
Their Autism Therapy Center is at 333 Turnpike Road. You can read about their services here and RSVP to the Open House here.