On Wednesday, three Algonquin teams fell out of the state tourneys. That leaves one still in it this afternoon. And the Titans did have a notable win yesterday.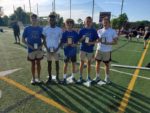 Algonquin's Boys Outdoor Track won yesterday's District E Decathlon. That was the only good news for Titans yesterday.
ARHS Baseball's improvement in the last half of the season made them appear to be a much stronger competitor than their 27th seed in MIAA Division 1 suggested. (They beat out 4th seed Shrewsbury to be CMass Champs and bested 6th seed St Johns in the Round of 32.)
But 11th seed Central Catholic broke the Titan's six game winning streak in the Round of 16, shutting them out 9-0.
In Division 1 Boys Tennis, the 18th seed Titans were another team that improved in the latter half of the season. Going into the Round of 16, they had won 7 of their last 10 games.
Still, given they were going up against undefeated, 2nd seed Lexington, the result seemed inevitable. It was a 5-0 shutout.
19th seed Boys Lacrosse had a reverse trajectory. The Boys started their season stronger than they ended it. 14th seed Lexington prevailed in the Round of 32, 14-7.
I made an error in yesterday's post. Algonquin Boys Rugby was slated to play today, not yesterday.
Given the amount of rain we've been getting, it's hard to believe it's still happening. But it is still on the schedules.
The 2nd seed Boys host 3rd seed Hanover for the Division 2 Semi Finals at 5:30 pm. The last time Hanover visited Algonquin, the Titans squashed them 33-5.
To cheer on the home team, you'll need to buy tickets online here.