I've been asked to remind readers about a year-round collection drive that supports SOS (Southborough Organization for Schools) and the APTO (Algonquin Parent Teacher Association).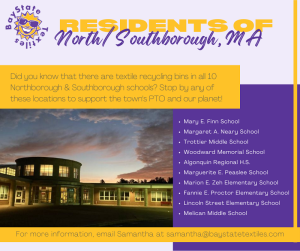 A collection bin for textile donations is located in the parking lot of each Northborough and Southborough public school. The non-profit linked to the school is paid by the pound for the items collected.
In calendar year 2021 alone, the donations raised $6,000 for the SOS and Northborough PTOs, and diverted 128,775 lbs of textiles from landfills.
Supporting the fundraiser is an easy, guilt free way to rid your house of junk and the good stuff, too. (By junk, I don't mean your old lamps or dishes. That's what the swap shop's for!) It's limited to textiles but that covers a lot of ground.
As long as they are clean, dry, and bagged, you can drop off items including clothing, used shoes, pocketbooks, accessories, blankets, linens and STUFFED ANIMALS (something I found impossible to donate elsewhere no matter how untouched!)
It also covers items clearly not good enough for reuse. The FAQs for partnering vendor, Baystate Textiles, explains that even ripped and stained textiles are fine to donate (again, as long as they are clean and dry):
Textiles that can't be reused, get recycled into wiping rags, or broken down into fibers and made into new materials.
FAQs also explain how the donations help the environment:
Why is it important to recycle my textiles?
Every year, the average person disposes of 81 lbs of textiles. Only 15% is being reclaimed or recycled, while the other 85% spends around 40 years decomposing in the landfills. That is 26 billion pounds of textiles releasing harmful CO2 and methane into our atmosphere.
Click here for the full list of accepted (and not accepted) donation items. (Most of items they list that they don't accept are pretty obvious, since you'd be hard pressed to shove a mattress or lawn chair into the textile bin!)