[Updated (9/27/22 9:01 am): Organizers informed me that the event has sold out.]
In four weeks, the Southborough Community Fund will be holding an evening "Fall Fest". They are inviting the community to join them to celebrate fall and support their philanthropic efforts.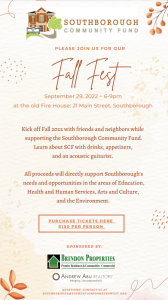 SCF invites the public to purchase tickets to attend the festivities scheduled for Thursday, September 29th from 6:00 – 9:00 pm:
Please Join Us at The Southborough Community Fund's Fall Fest at the Old Fire House!

Kick off Fall 2022 with friends and neighbors while supporting the Southborough Community Fund. Learn about the SCF with drinks, appetizers, and an acoustic guitarist.

All proceeds will directly support Southborough's needs and opportunities in areas of Education, Health and Human Services, Arts and Cultures, and the Environment.
Established in 2014 by local residents, SCF was created to promote "a spirit of philanthropic giving to enhance the quality of life for all residents". Two years ago, they announced a merger with the Southborough Education Foundation (completed in 2021) to add education to their other mission areas.

Over the past eight years, SCF has given out over $800,000 in grants to support programs and resources to help Southborough residents. (See image right, cropped from a flyer, for more detail.)
Tickets to the philanthropic fundraiser are $150 per person. You can buy them online here, with an additional processing fee. Or, to avoid the fee, you can mail a check, made out to the Foundation for Metrowest*, 3 Eliot St, Natick, MA 01760. (Please include number of tickets and guest names.)

For those not familiar with the promoted venue, the former Fire Station is downtown at 21 Main Street. According to organizers, the event will mainly be outside. They will also make use of an area in the old fire truck garage that has been cleaned out and "refreshed". (See image of grounds and the old station right.)
*SCF is a fund under the Foundation for MetroWest, a 501(c)3.
Updated (9/7/22 1:30 pm): My typo had the wrong date. It is on the 29th.