The Northborough/Southborough Special Education Parent Advisory Council (NSPAC) is promoting three special events in the next two weeks.
The programs offer a Coffee for parents to Connect, a Playground Meetup for families, and a "training" presentation on the rights of kids with Autism.
Below are more details on each with registration links. (Click on flyers to enlarge.)
Upcoming Events: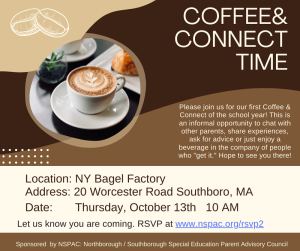 Coffee and Connect
Thursday, October 13th , 10:00 am at NY Bagel Factory, 20 Worcester Road (Rt 9 eastbound location), Southborough
The classic monthly meetups are:
an informal opportunity to chat with other parents, share experiences, and ask for advice with other families of students with special needs in our school district. All are welcome.
(click here to register)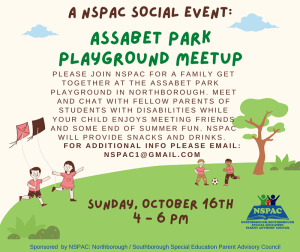 Playground Meetup for families
Sunday, October 16, 4:00 – 6:00 pm at Assabet Park in Northborough
The group had to postpone it's meetup from September 11th due to rain. Let's hope the weather is better for the upcoming playdate for kids and families.
Meet and chat with fellow parents of students with disabilities while your child enjoys meeting friends for some end of summer fun. NSPAC will provide snacks and drinks. For additional info please email: NSPAC1@gmail.com
(click here to register)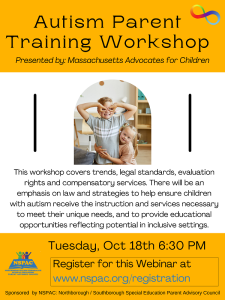 Autism Parent Training presented by Massachusetts Advocates for Children
Tuesday, October 18, 6:30 pm via webinar
This workshop provides an overview of specific special education requirements addressing the unique needs of students with autism. This workshop addresses current trends, legal standards, evaluation rights and the range of compensatory services still available to address students' needs. There will be an emphasis on law and strategies to help ensure children with autism receive the full range of instruction and services necessary to meet their unique needs, and to provide educational opportunities reflecting potential in inclusive settings. All are welcome
(click here to register)
To learn more about NSPAC visit nspac.org.
Updated (10/7/22 9:02 am): I forgot that NY Bagel Factory has more than one location in Southborough. The October 13th coffee is at the Rt 9 eastbound location (20 Worcester Road).