Southborough Youth & Family Services is asking residents (who can afford to) to give a boost to families in town experiencing financial anxiety during a tough time of year.
Last year, SYFS moved up and renamed the annual Holiday Giving program to support families as they headed into winter. This year, they are repeating the "Winter Wishes" program with a focus on collecting $25-50 gift cards by November 30th: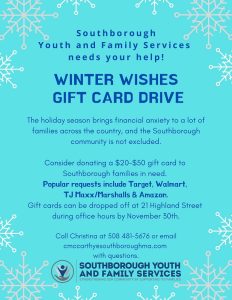 'Tis the season for giving! This year, give the gift of support to Southborough Youth and Family Services Winter Wishes program. We are collecting $25-$50 gift cards for Southborough families experiencing financial anxiety around this time of year. Popular requested stores are Target, Amazon, Marshalls/TJ Maxx, and Stop & Shop. Please drop off your gift card donation at our office at 21 Highland Street during business hours by November 30, 2022. Please contact Christina McCarthy with questions at cmccarthy@southboroughma.com or (508) 481-5676.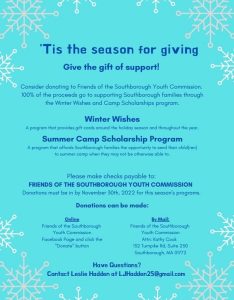 If you don't have time to run those errands, you can alternatively donate to the Friends of the Youth Commission. That program supports SYFS programs including Winter Wishes and their annual camp scholarships. (If you want your donation to support the Winter Wishes program, please do that by November 30th.)
You can donate online through the donate button on their Facebook page or through Paypal (though the latter deducts a transaction fee). Or you can make out a check to Friends of the Southborough Youth Commission and mail that to Friends of the Southborough Youth Commission, Attn: Kathy Cook, 132 Turnpike Rd, Suite 250, Southborough, MA 01772. (If you have any questions about the Friends group, please contact Leslie Hadden at LJHadden25@gmail.com.)