A week from tomorrow, local vendors are coming together for a special Shopping Fair.
Each year local artists, craftspeople, and entrepreneurs work together to sell their goods at a pre-Thanksgiving sale in the Southborough Community House (28 Main Street).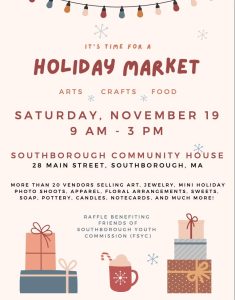 This year, that takes place on Saturday, November 19th from 9:00 am – 3:00 pm.
It's a good time to buy some holiday decor, get in some early holiday shopping, or just pamper yourself as winter sets in. There will also be (pre-booked) mini Holiday Photo Shoots. (Scroll down for those details.)
Shoppers can also buy tickets for raffle prizes, with proceeds supporting Friends of the Southborough Youth Commission. (The Friends group will in turn support Southborough Youth & Family Services Winter Wishes drive and scholarships for summer camp.)
For more shopping details closer to the event, check their Facebook event page.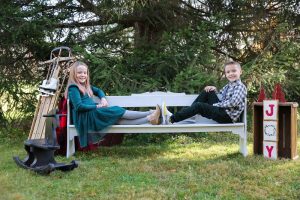 The 15 minute photos shoots by Chelsea Bradway will take place outside of the Community House (unless weather forces her to relocate to Apothecary Artist Studios at 1 Boston Rd). For more information and to book a time, click here.