Every year, the Girl Scouts holds a holiday sing-along in front of the Community House. Traditionally, it has been limited to parents of Girl Scouts. This year, they opened it up to the community.*
The Girl Scouts and attendees will celebrate on the Community House lawn from 6:30 -7:30 pm. The fun includes singing seasonal favorites. There will also be hot cocoa and treats to cap off the evening.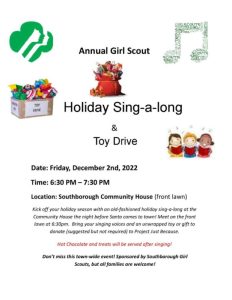 The annual gathering is timed to celebrate lighting up the Community House the night before many of the other traditional Christmas and holiday festivities take place Southborough.
Attendees are encouraged (but not required) to bring unwrapped toys to donate to Project Just Because, the Hopkinton based non-profit that supports families in need. (Read more here about the gifts they are seeking.)
The event takes place even in rain or snow (unless conditions are unsafe).

So far, the forecast looks clear, but it's a bit early to be confident. Since my family joined the scouts, it seems to rain on this night, as often as not. Still, it hasn't seemed to dampen the carolers' spirits. So, if the forecast changes to rain, just break out your umbrellas and boots, and head to the Community House for an evening of fun.
*This year organizers' insurance is covering non-scouting family attendees.