I have another event to promote for Southborough's jam packed first Saturday in December – St. Mark's Episcopal Church's annual Christmas Bazaar.
The church invites the public to join them for their annual signature fundraising event. The Christmas Bazaar will feature holiday treats for sale at the Bake Shop and gifts for the holidays. Admission is free.
Proceeds from the fundraiser will benefit their Youth Group Annual Mission Trip and the Southborough Food Pantry Fuel Assistance Program.
It's a quick hop from downtown. So there's plenty of time to check it out before or after Santa lands. It's also a great place to grab lunch or a snack while you're running around that day. The event will run from from 10:00 am to 2:00 pm at the Parish Hall, 27 Main Street.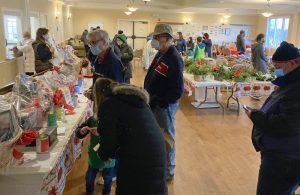 In the main room, you can shop at the Craft Table and take part in the popular Basket Raffle, 50/50 Raffle, and Silent Auction. Then head off to explore the "treasures" on sale in the White Elephant room, Jewelry room, and Toy room.
Their volunteer cooks will be selling luncheon fare from the Kitchen Café from 11:00 am – 2:00 pm.
The parish will also hold its the traditional Bag Sale in the Bargain Box store:
ALSO stop in at the Bargain Box for the end of season Bag Sale – $5 per bag. The Bargain Box is a quality consignment clothing shop located for over 70 years on the lower level at St. Mark's Church parish hall.
For more information, 508-481-1917 or info@stmarkssouthborough.com.