Many Southborough residents are active members of regional choruses based in neighboring towns. Those groups have asked me to share news on their concerts this weekend and/or next.
Below are the details on relevant community chorus concerts taking place next door, plus a reminder about the Southborough-based Handel's Messiah Concert.
While I'm sharing this news, I should also remind that a free, outdoor community singalong is scheduled for this Friday night, hosted by the Girl Scouts. You can find those details here.
Westborough Community Chorus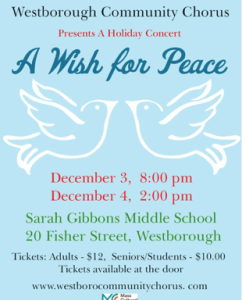 A Wish for Peace
Saturday, December 3rd at 8:00 pm and Sunday, December 4th at 2:00 pm
Sarah Gibbons Middle School, 20 Fisher Street, Westborough
The chorus will hold two performances of its Annual Holiday Show with colorful sets and costumes. This year's program includes several Christmas favorites, some Hanukkah tunes, plus songs of hope and peace.
The chorus is directed by Andrew Milne. Both concerts will include visits from Santa and an audience singalong.
Admission is $10 per child and $12 per adult. They are available at the door or online here.
Northboro Area Community Chorus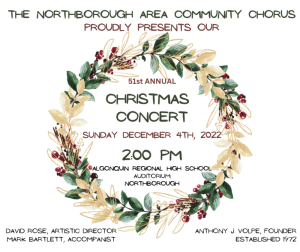 Christmas Concert
Sunday, December 4th, 3:00 – 5:00 pm
Algonquin Regional High School auditorium, 79 Bartlett St, Northborough
The chorus will present its 51st Annual Christmas Concert under the direction of David Rose, accompanied by pianist, Mark Bartlett.
The concert will feature a special performance by Saint Mary's Children's Choir of Shrewsbury. Plus, expect a visit from Santa
Admission is $5 each at the door.
The Messiah Community Chorus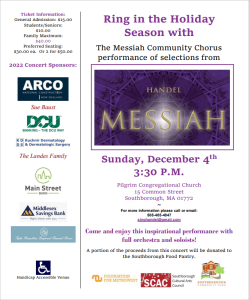 Handel's Messiah
Sunday, December 4th at 3:30 pm
Pilgrim Congregational Church, 15 Common Street, Southborough
The chorus will perform its 49th annual concert of traditional selections from Handel's Messiah. The performance is complete with chorus, orchestra and soloists. A portion of proceeds will support the Southborough Food Pantry. For pricing and details, see dedicated post.
Assabet Valley Mastersingers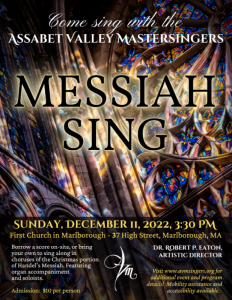 Messiah Sing
Sunday, December 11th at 3:30 pm
First Church Congregational, 37 High Street in Marlborough
Each year, AVM members accompanied by organ, performs the Christmas portion of Handel's oratorio in addition to the "Hallelujah Chorus" with solos.
A highlight of this annual concert is audience is encouraged to sing along during the choruses. Attendees are encouraged to bring their own score, but a limited number will be available to share.
Admission $10 at the door. For more details or to buy tickets online, click here.