Every spring, Southborough Youth & Family Services uses May to promote Mental Health Awareness. In advance, SYFS is reaching out to ask community members to help.
The agency is seeking ideas and calling for art.
In 2019, SYFS incorporated an art exhibit into its Mental Health Awareness Month activities. The exhibit invited the community to "Celebrate Wellness". (Obviously, 2020 didn't allow for a "2nd annual" in-person celebration. The agency had to focus on finding other ways to promote mental health wellness.)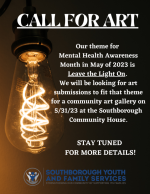 The agency is planning hold another art exhibit as part of this year's MHAM activities. The theme is "Leave the Light on".
A flyer calling for art promotes, that they "will be looking for art submissions to fit that theme for a community art gallery".
The exhibit is scheduled for May 31st at the Community House. Stay tuned for more details.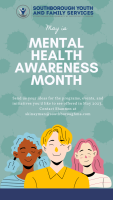 The late May event is just one of many ways the agency is looking to promote MHAM. As part of their planning, they are asking the community to help them brainstorm:
Send us your ideas for the programs, events, and initiatives you'd like to see offered in May 2023. Contact Shannon at skinayman@southboroughma.com.