Southborough Youth and Family Services is looking to recognize someone who has served our community well.
The agency is reaching out to the public for nominees for its 5th annual Wellness Award.
Nominees don't have to be residents, and there is no age requirement. But they must have served "the Southborough community in some capacity".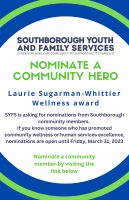 The award is meant to honor community members that meet one or more of the following criteria:
Someone that has promoted the mission of making Southborough a better place for all
A person who is a mental health or human services advocate
An individual that embodies wellness and resilience after overcoming challenges and adversity
Or someone that has worked in some other capacity to promote human welfare in Southborough.
Nominations are due by the end of March. A ceremony will take place in May, as part of SYFS' Mental Health Awareness month activities.
The award is named in honor of SYFS' former longtime director Laurie Sugarman-Whittier, who:
dedicated over 30 years of her career to providing care and support to residents of Southborough. Laurie had a strong commitment to mental health education, and to fostering a nurturing and safe place for those dealing with mental health issues. Though Laurie retired in 2016, she left a legacy that is still evident in our community.
To nominate an individual click here.
In 2019, SYFS first presented the award to: Mary-Ellen Duggan. Subsequent recipients have been Barbara Jandrue, Chelsea Bradway, and Cathy Wilson.