The Southborough Senior Center is seeking donations. But instead of asking for money, the staff is asking residents to look through their drawers, closets, and other storage areas for accessories and décor.
The center is in need of items to sell through their gift shop:
We are looking for small, almost new, gently used donated items such as costume jewelry, candles, small dishware, seasonal decorations, purses, wallets, etc.
Since their space is very limited, they can't accept large items.
Funds raised from shop sales go to the Friends of the Southborough Council On Aging and to support Senior Center activities.
The Gift Shoppe is maintained by senior center staff who rotate items from a larger collection they keep in storage. Right now, that supply is low.
Donations can be dropped off at the Senior Center's Office, 9 Cordaville Road weekdays from 9:00 am – 2:00 pm.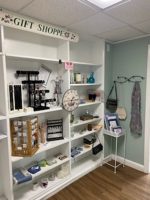 Some readers (mainly Southborough seniors) will be familiar with "Alice's Gift Shoppe". The little shop was opened years ago by late resident Alice Kavanaugh who served as the center's admin for over a decade before her retirement at the age of 95.
Since then, the area it occupied was renovated to make room for a bathroom. The shop was relocated to a hallway, across from the nurse's office.
The public is free to come in and shop during the center's hours, 8:30 am – 3:00 pm on weekdays. Plus, an "honor system envelope" allows shopping for visitors in the building outside of the Senior Center's hours. (Cordaville Hall is also used for meetings and classes, and some Town offices.)