On Tuesday, the Southborough Cultural Arts Council will be holding its annual grant awards ceremony. They are inviting the public to join them.
The ceremony will take place at the Community House (28 Main Street) on Tuesday, February 21st at 6:00 pm. Refreshments will be served.
SCAC will be celebrating the awarding of 14 grants, several of which represent multiple area events. The awards total over $8,500 (which is more than the original $6,300 allocation that had been promoted.)*
In addition to the usual recipients, there were also several special events/exhibits are worth sharing more detail on.
First, here's a look at the arts/entertainment that will take place in Southborough
Southborough Recreation's Summer Concert Series ($1,600)
Six acts are currently scheduled to take the outdoor stage at Neary School for this summer's free series:
July 5th – Hit the Bus
July 12th – Stomp 'N Holler
July 19th – South St. Band
July 26th – Stacey Peasley (Kids Performance!)
August 2nd – Messy Excuses
August 9th – JUMPIN' JUBA
YES! Art Exhibit ($750)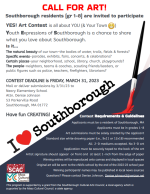 "Youth Expressions of Southborough" will feature selected 2D works from Southborough 1st to 8th graders. (Read more in the call for art submissions here.) Winning pieces will be duplicated onto canvases to be displayed in public buildings in town.
Aromatherapy 101 ($325)
The event featuring a certified Aromatherapist will be hosted by the Southborough Library:
This presentation highlights the history and health benefits of essential oils & healing botanicals inc. a fun interactive trivia quiz. Patrons craft fabric aromatherapy dream pillows, create a healing foot salt soak, make deconstructed soaps, all using dried botanicals and essential oils. Relaxing music and herbal teas – aromatherapy in a cup! – add to this calming, creative experience!
Southborough Youth & Family Services is getting two grants. One is for a special class series. The other is for their annual celebration.
Mindful Art: Using Art Therapy to Create Community Art ($750)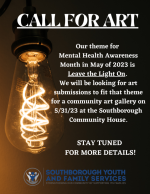 Celebrate Wellness ($200)
This is the annual celebration to cap off Mental Health Awareness Month in May. It is a night of music and community that includes an art exhibit. (This year's theme is Leave the Light on. Read more about SYFS' call for art submissions here.)
African Folktales ($1,063)
This program is for 3rd grade students at Woodward School.
From the desert lands of the Sahara to the plains of the Serengeti to Mount Kilimanjaro and beyond – join a variety of characters from a wide range of cultures in stories that celebrate the various folk tale traditions of the continent of Africa. African music helps to set the stage for these energetic stories. The stories include Anansi, porquoi tales and many facts and figures about this incredible continent. Students will benefit from the stories coming alive and make the connection of folktales they have read.
Other programs will take place in nearby towns. Those include:
The Massachusetts High School Drama Festival ($375)
Each year Algonquin Regional High School is one of the about 120 schools to participate. ARHS will host performances on March 4th in their Black Box Theatre.
SheGrooves: Using Our Voices for Positive Change ($300)
The special concert will take place at the Hopkinton Center for the Arts on March 19th.
Equal parts performance and presentation, this 90-minute family-friendly public event will explore how women historically have used their voices for positive change within the world. . .
"Use your Voice" explores representation, female empowerment and women taking a "seat at the table". We will also be inviting the audience to engage with us by using their own voices. Several songs in our set list involve audience call-and-response or collective rhythmic performance. Our repertoire currently includes original tunes as well as unique covers of Joni Mitchell, Carole King, Aretha Franklin and Beyonce. Our message is meant to be a broad stroke: Use your voice for positive change.
Celebrate Southborough at the Hopkinton Center for Arts ($200) – Date not yet posted
Multiple grants were to the usual regional singing groups that recruit Southborough members:
Assabet Valley Mastersingers, Inc. — Turn the World Around: An AVM Chambersingers Concert ($750)
Messiah Community Chorus — Messiah Community Chorus presentation of Handel's Messiah ($500)
Northborough Area Community Chorus — NACC 2023 Spring and Christmas Programs ($500)
Westborough Community Chorus, Inc. — 60 Member Chorus Performance with sets and costumes ($500)
This year, SCAC is also supporting an instrumental group that has been performing at Northborough's Applefest for years:
Charles River Sinfonietta, Inc. ($700)
Performing Chamber Music for. Northborough Applefest and also for BSMF and Millis Library & for Cable TV stations in all the towns that support us
*Updated (2/17/23 3:57 pm): SCAC's Jen Hanson explained that additional funds were rolled over from last year from events that weren't able to take place in 2022. That allowed them to award more than originally promoted for this year.