A monthly yoga program will focus on helping mothers who have lost a child. The free series will be based in Southborough, starting in March.
The events will support grieving mothers and their families through a "combination of yoga, deep meditation and Reiki healing".
The sessions are offered by the organization BenSpeaks as part of their Survive to Thrive program. (The organization was founded by a mother who lost her teenage son to suicide.)
The organization promotes that the events will take place on the third Sunday of the month from 4:00 – 5:30 pm, starting on March 19th. Although free, space is limited, so pre-registration is required.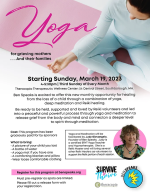 Yoga for grieving mothers… and their families
​Ben Speaks is excited to offer this new monthly opportunity for healing from the loss of a child through a combination of yoga, deep meditation and Reiki healing.
Be ready to be held, supported and loved by Reiki volunteers and led into a peaceful and powerful process through yoga and meditation to release grief from the body and mind and connection a deeper level to spirit through meditation. . .
Yoga and Meditation will be facilitated by Judy Giovangelo, Founder of Ben Speaks. Judy is a certified ERYT Yoga Teacher and Hypnotherapist. She is a Reiki Master and will bring several other Reiki Healers as volunteers to support the Reiki portion of each session.
​The sessions will take place at Theracopia Therapeautic Wellness Center, 54 Central Street. To register and for more details, click here.