Recently, Southborough's Rotary Club partnered with the Marlborough chapter to put together "Care Kits" for homeless women. They asked me to share the news of their success and their thanks to those who made it possible.
Southborough Rotary collected financial donations from the community at the annual Pumpkin Stroll and Heritage Day in the fall. The effort was also supported by: Target in Marlborough East, US Sports & Apparel, F.W. Madigan Construction, Worcester, Joe Demeo, LLC, Boston, and Avidia Bank.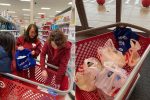 The funds were used to provide "much needed health care products and tote bags" for the Care Kits.
They were also able to add handmade hats, scarves, cowls and mittens thanks to the many contributing knitters and crocheters from from Marlborough, Northborough, Southborough, and Westborough.
So far, kits they created have helped 4-6 women and their loved ones. Their ultimate goal is to create 96 kits.
The Care Kits initiative is part of the Rotary Homestead Project. If you are interested in supporting that initiative or others*, you can donate to their tax exempt 501(c)(3) here.**
Members also taking this opportunity to recruit more volunteers.
If you would like to learn more about the Rotary Club of Southborough, then please visit our website https://southboroughrotary.com/events for upcoming events with the Rotary Club of Southborough and a list of our meetings and meeting locations. All are welcome to attend and if you're interested in joining, please feel free to speak to any Rotarian!
*The donate page also has links to support their Foldscope initiative, or Disaster Relief Projects (including their current fundraiser for communities suffering due to earthquakes in Turkey and Syria).
**The club promotes:
Rotary International is a organization that has a 5-Star rating on Charity Navigator. We are a volunteer organization and work with other Rotary clubs so 95% of the money you give goes directly to those who need it most.