For the 5th year, the Southborough community groups are inviting the public to join a call for Peace and Unity.*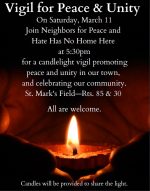 This year's Candlelight Vigil is scheduled for Saturday, March 11th at 5:30 pm on St. Mark's field (at the corner of Routes 85 & 30.)
Candles will be provided and space is promised for those seeking to socially distance. The gathering is planned to take place whether rain, shine, or snow.
The event is hosted by Southborough Neighbors for Peace and Hate Has No Home Here.
After hearing inspirational words and joining together in song, the group will be handing out candles to everyone who joins them "to share the light.". . .

They invite you to bring family and friends to help spread "the message of Peace & Love."
*In 2021, the event was held as a "Peace Parade of Thanks". No candles were involved, but the organizers considered it part of their annual vigil for peace and unity.