May is Mental Health Awareness Month (MHAM). Once again, Southborough Youth & Family Services is coordinating a series of special related events. Their 2023 theme is "Leave the Light on".
SYFS announcement of the initiative explains:
May is Mental Health Awareness Month. The goal of Mental Health Awareness Month is to raise awareness about mental illness and to reduce the stigma that surrounds it. During this month, we strive to educate the community about the importance of mental health and how it affects us all.
Community Read
One of the events scheduled for later this month is a discussion of the Community Read. So, I should probably flag that for readers!
The book is "The Little Book of Hygge: Dannish Secrets to Happy Living". The author's website includes this description quoted from a freakanomics podcast:
Denmark has an international reputation for being one of the happiest nations in the world, and hygge is widely recognised to be the magic ingredient to this happiness.

​Hygge has been described as everything from "the art of creating intimacy", "cosines of the soul", "the absence of annoyance" to "taking pleasure from the presence of soothing things", "cosy togetherness" and "the pursuit of everyday pleasures". . .

The Little Book of Hygge is the definitive, must-read introduction to hygge, written by Meik Wiking, CEO of the Happiness Research Institute in Copenhagen. The book is packed full of original research on hygge, conducted by Meik and his team, along with beautiful photographs, recipes and ideas to help you add a touch of hygge to your life.
To borrow a copy of the book, click here or reach out to the Library.
Special Events
Southborough Goes Green
Friday, May 5
The community is encouraged to wear green in a show of support. Look for green ribbons across Southborough.
Leave the Light on
Friday, May 5-31 at dusk

Display your lit luminary bag outside your home each night. Pick up bags at the Town House, Southborough Library, or SYFS' office at 21 Highland Street. (2 free bags available per household while supplies last.)
Community Read Discussion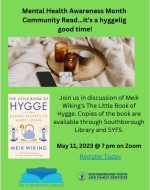 Thursday, May 11, 7:00 pm via zoom
A group discussion over zoom of the Community Read selection, "The Little Book of Hygge: Dannish Secrets to Happy Living". (To borrow a copy of the book, click here or reach out to the Library.)
Sponsored by the Southborough Library: "Coziness is at the heart of hygge but can it help with mental health? Ja, you can bet your bagdel it does! Come discuss Meik Wiking's The Little Book of Hygge, learn how hygge can boost your overall happiness, and even play a game!"
Click here to register for the event.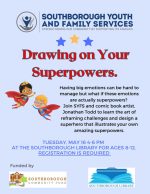 Drawing on Your Superpowers
Tuesday, May 16, 4:00 – 6:00 pm @ Southborough Library
This is a special program for 8-12 year olds.
"Having big emotions can be hard to manage but what if these emotions are actually superpowers? Join SYFS and comic book artist, Jonathan Todd to learn the art of reframing challenges and design a superhero that illustrates your own amazing Superpowers."
Registration is required. Click here to sign up.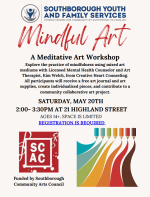 Meditative Art Workshop
Saturday, May 20, 2:00 – 3:30 pm @ 21 Highland Street
This is special program is for ages 14+.
Explore using mixed art mediums to practice mindfulness. The program will be led by a Licensed Mental Health Counselor and Art Therapist. Create individualized pieces, and contribute to a community collaborative art project.
Participants will receive a free art journal and supplies. Registration is required and space is limited. Click here to sign up.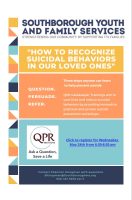 How to Recognize Suicidal Behaviors in Our Loved Ones
Wednesday, May 24th 6:30-8:30 pm @ 21 Highland Street
A QPR (Question, Persuade, Refer) Gatekeeper Suicide Prevention Training session. SYFS describes it as "a grass-roots way for you to help keep friends, loved ones, and our community safe." Like CPR, QPR "teaches basic skills to help a person in crisis."
Registration is required. Click here for more details and to sign up.
Celebrate Wellness Event
Wednesday, May 31, 6:00 pm @ the Community House, 28 Main Street
This is the celebration to wrap up the month's MHAM events and present this year's winner of the Laurie Sugarman Whittier Wellness Award. (Read more about the award here.)
The free event includes music, art, entertainment and light refreshments. No registration is required.
You can open the 2 page flyer of the full month's activities here. For information and registration for other upcoming programs offered by SYFS, click here.
Updated (5/5/23 8:43): An unfortunate typo originally described the May 16th event as a Sunday (when the Library isn't even open!)