The Rotary Club of Southborough is holding another collection drive. This time, they are seeking gently used and clean handbags. The deadline for donations is this Sunday, April 30th.
The handbags are part of an initiative to support unsheltered or homeless mothers. Rotary members will be inserting small personal items* into the bags before donating them as gifts for Mother's Day.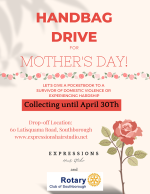 Last weekend, Rotary was encouraging the community to turnout to clean up our roadsides. Now the club is encouraging us to clean out our closets:
While you're doing your spring cleaning and if there's a lovely bag (or bags) you would like to consider to give to a mother in need – please drop them off at 60 Latisquama Road.
(While you're at it, if you come across other gently used items you no longer need, keep in mind the Southborough Senior Center's recent call for donations to their gift shoppe.)
Last fall, Rotary began collecting cash donations to help homeless women in our region. Since then, they have collected winter coats for families in need and diapers for homeless families. Rotary's website explains:
The club started this effort in collaboration with the Rotary Club of Marlborough to support those who need coverage of Extended Stay prior to moving to a shelter or a longer term housing solution. As we looked into this problem more, we found that there increasing costs that families are not able to maintain. These efforts are to restore the belief that yes, someone out there truly cares and will take action to demonstrate such.
On Facebook, Rotary added:
If you would like to donate towards purchasing small items to add to the bags, we take PayPal (rotarysouthborough@gmail.com) and/or Venmo (handle: rotarysouthborough).
As with the other recent collection drives, Southborough Rotary member Lina Zolick is also using her business in Reading (Expressions Hair Studio) to collect contributions.
*Examples of the personal items the club will be donating are tissues, lotions, and hair ties.