The Southborough Gardeners are asking readers to Save the Date for their spring plant sale. It's a great source to pick up some flowers to perk up your yard or home this spring.
The Gardeners proudly promote that their sale is well known for the perennials that members dig out of their own gardens to donate. They "have been tested by our own member's gardens" and include varieties "not usually seen in commercial greenhouses".

Photos from the Gardeners' gallery on their website show examples from past sales that included lush geraniums and impatiens.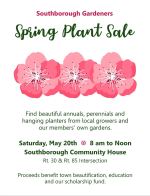 As usual, the event will be held at the Community House, 28 Main Street (on the corner of Routes 30 & 85 downtown). It will take place Saturday, May 20th from 8:00 am to 12:00 pm.
Proceeds from the sale go towards the club's Town beautification and education efforts, and their scholarship program.
To learn more about the Southorough Gardeners, click here.