The Southborough Trails Committee is promoting their upcoming special walks and events. That includes events this weekend.

(While I'm sharing their news, they asked me to include a reminder about the Open Space Commission's Planet Palooza outdoor events this Saturday [now cancelled with future date TBD]* — the Garden Tour & Talk and Earth Day Concert. Click here for details.)
Cancelled – Family-Friendly Nature Walks in the Forest
Sunday, April 30th at the Town Forest (New date TBD)*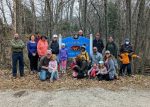 As part of Planet Palooza, the Southborough Stewardship and Trails Committee are inviting the community to join family-friendly guided nature walks.
The approximately 75 minute walks through the Town Forest will be offered this Sunday at 1:30 PM and 3:30 pm.
Explore the outdoors with your family. Get to know the trails, learn about native wildlife, observe and identify plants, trees, and signs of animals. The walks will be led by Dan Harvey, a naturalist and environmental and outdoor educator with over 30 years' experience throughout the U.S.
To learn more and to register click here.
Family Stroll in the Woods
Sunday, May 7th, 1:00 pm at 911 Loop Trail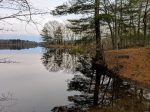 The Trails Committee has organized this walk to take place during "Wellness Week".
Artist, Storyteller and "curious naturalist," Deborah Costine will lead a stroll for families and others in the forest located behind the 911 Field (911 Loop Trail). This trail is surrounded by views of the reservoir and includes a fun peninsula children will enjoy exploring.
For more details and to register, click here:
Yoga on the Trails
Sessions in May and June at Sudbury Reservoir Trail
The Trails Committee is hosting this special series to support the Town's Mental Health Awareness Month campaign.
Specific yoga sessions are geared to families, adults, and teens. The sessions will be led by Emma Bartolini, "a yoga teacher, artist, dancer with a special affinity to all things botanical."
Family Yoga Session, Sunday, May 7th at 11:00 am
Adult Yoga Sessions, Saturday, May 20th at 10:00 am and Sunday, May 21st at 9:00 am
Teens Yoga Session, Sunday, June 4th at 11:00 am
To register, and for more details, click here.
*Updated (4/28/23 7:56 am): Due to the forecast rain this weekend —the Garden Tour & Concert and the Town Forest Walks are cancelled. Stay tuned for new dates.