As soon as Thanksgiving is behind us, many residents will want to spruce up their homes for their next big holiday. Here are the options in town.
You can purchase pre-cut trees from Southborough Firefighters (who will help you load it or even deliver it), or cut your own tree from a Southborough farm.
Annual Firefighters Sale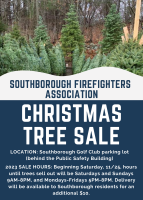 For over 50 years, the Southborough Firefighter Association has raised funds by selling trees.
The SFA lot will open for business this Saturday. The sale starts November 26th and runs until their trees sell out.
Firefighters will again sell trees (during their off hours) in the Southborough Golf Club parking lot behind the Public Safety Building at 32 Cordaville Road.
On Saturdays and Sundays, the hours will be 9:00 am – 8 :00 pm. Weekdays will be evening sales only — 5:00 – 8:00 pm.

At the SFA tree lot you can usually find a wide range of tree sizes, ranging from 5-feet to 13-feet, all with reasonable prices. They offer a fresh cut for the tree before you take it on the road.
If you live in town, they can also deliver it for you (for an extra $10 fee).

Proceeds from the sale benefit the Southborough Firefighters Association.
(And while you are picking up a tree, you can also drop off a donated gift at the station for the annual collection drive for Project Just Because in Hopkinton.)
Cut your own
A Southborough farm that offers "cut your own" Christmas Trees is also kicking off their season this weekend. Reservations are required for Wolf Hill Farm at 30 Jericho Hill Road. (Images are contributed and from Facebook.)
For details, see their Facebook post below: