Southborough Town Meeting April 2009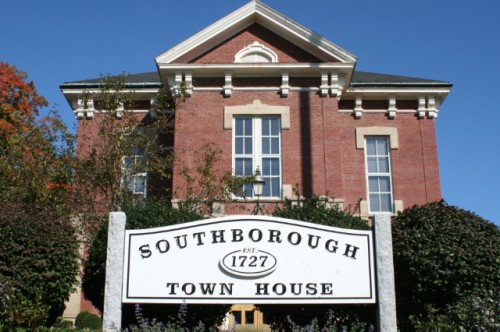 Documents
All the Town Meeting documents you need, and then some.
Warrants
Budget docs
Other docs
Frequently asked questions
When is town meeting?
Town Meeting starts on Monday April 13 at 7:00 pm at Trottier Middle School. A quorum of 100 registered voters is required to start the meeting.
Why should I care?
Because you're a citizen of this town and you want to have a say in how its run. That's one reason, but here's one you might find even more compelling: Because you care about how much you pay in property taxes.
Southborough's property tax rate is determined primarily by what happens at Town Meeting. Simply put, the more stuff voters decide to fund, the higher your property tax gets. On the flip side, if there are services you feel passionate about — the arts, recreation, schools, public safety — Town Meeting is the place to make sure they get the funding they need.
And while the Board of Selectmen and the Advisory Committee get to recommend specific budgets at Town Meeting, only voters get to decide which ones get adopted. That means you have the final say. Town officials don't set the budget — you do.
What's this I hear about a fall Town Meeting?
The Board of Selectmen have decided to hold a special town meeting in September to consider big capital items like the aerial ladder truck, the new police station, and Main Street utility undergrounding. So you won't see any of those items come up in April.
More information
If you're looking to get up-to-speed on issues likely to come up at Town Meeting, here are some stories to get you started.
About town meeting

General budget

School budget
Specific town departments and services