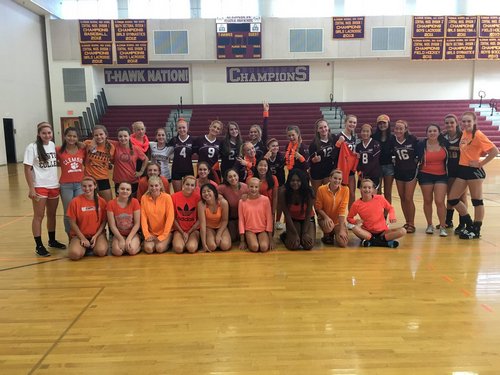 A bit late – but better then never – here's the scoop on Algonquin sports this week.
The Telegram ran a story on Gonk's strong Volleyball team, at the top of the Mid-Wach A league. (Click here to read it.) Since then, the team racked up two more wins, bringing them to 11-1 for the season. Tomorrow, they head to Hudson.
Sadly, T-Hawks football is at the bottom of Mid-Wach A. After starting the season with three wins, they lost for the past two weeks. They'll hope to get back on track when they head to Shrewsbury this Friday.
Now here's the rest of the week's varsity schedule.
To find a complete schedule of Algonquin sports, including JV and freshmen match ups, click here. Follow these links for the Assabet sports schedule and the St. Mark's sports schedule.
Thursday, October 13, 2016
3:30 pm ARHS Golf vs. Leominster @ Juniper Hills Golf Course
5:15pm ARHS Girls Volleyball vs. Hudson Public Schools @ Hudson High School
5:30 pm ARHS Boys Soccer vs. Shepherd Hill Regional @ Algonquin
7:30 pm ARHS Girls Soccer vs. Shepherd Hill Regional @ Algonquin
Friday, October 14, 2016 
4:00 pm ARHS Field Hockey vs. vs. Shepherd Hill Regional @ Memorial Field (911 field)
5:15pm ARHS Girls Volleyball vs. Westborough High School @ Westborough
7:00 pm ARHS Football vs. Shrewsbury @ Shrewsbury
Saturday, October 15, 2016
11:00 am ARHS Boys Soccer vs. Nipmuc Regional @ Algonquin
11:00 am ARHS Girls Soccer vs. Nipmuc Regional @ Algonquin
11:30 am ARHS Field Hockey vs. Notre Dame Academy – Worcester @ Memorial Field (911 field)