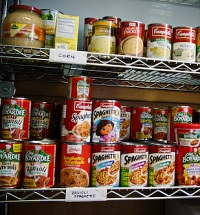 A story in local media reminded me about a post I forgot to write at the start of the summer. It's a reminder of support needed by the Southborough Food Pantry over the summer. I've already missed reaching some readers who have flitted off to summer homes for the season. This is for the rest of you.
Many of us take off for at least a week or two of fun in the summer. Meanwhile, residents who rely on the food pantry are likely to be here.
Plus, as Southborough Wicked Local covered, kids who take part in school lunch programs don't have that option during these months. SWL spoke with one of our town's pantry coordinators:
"Maybe during the year [some low income families with kids] may come in twice a month," [Karen] White said, adding that the pantry serves about 60 families year-round, spending about $600 each summer on food. "(During the summer), a lot of times they'll come in twice a week."
During the school year, food is collected for the pantry through food drives and town events. That falls off in the summer.
So, consider carving some time out of your summer fun to drop off a donation at one of their collection centers.
The Southborough Food Pantry's website can help you find the best dropoff site for you. Plus, they keep an updated list of most-needed items. (You can also look for that on Facebook.)