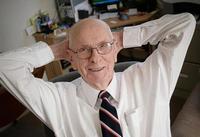 Eric James Hanslip, 87, of Southborough, passed away peacefully on Monday, February 4, 2019 at the Care Dimensions Hospice House in Lincoln, after a period of declining health.
Born in London and came to the united States in 1965 to create a better life for himself.
During his years in London, Eric drove double decker buses and performed as lead singer in London pubs. Upon arriving in Massachusetts he obtained a position as chauffeur and caretaker for the owner of a large trucking company. Finally Eric was foreman for a plastics company until his retirement. While he was living at Colonial Gardens he was instrumental in the creating morning coffee sessions where tenants could talk about different issues.
He will be remembered by many for his caring ways and great personality.
A memorial service [will be held] at the Morris Funeral Home on April 6, at 11 am.