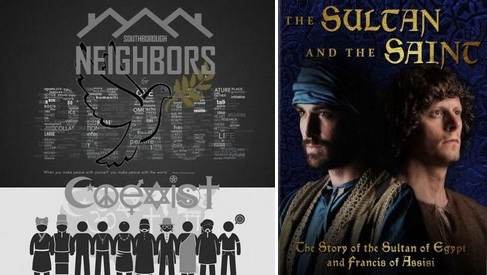 This Sunday, the community is invited to a special movie screening to spark dialogue on seeking interfaith peace.
Southborough's Neighbors for Peace are hosting a special event in response to last week's terrorist attack in New Zealand. The event is Sunday, March 24th at 6:30 pm at St. Mark's Church's Stephens Hall, 27 Main Street.
Neighbors for Peace invite:
In response to the attack on two mosques in Christchurch, NZ join Southborough Neighbors for Peace for a special viewing of the film "The Sultan and the Saint" followed by a conversation on interfaith desires for peace in a world too often given to stereotypes and fear.

We'll explore the bond of friendship between Al-Kamil, Sultan of Egypt, and St. Francis of Assisi during the time of the Crusades and what it can mean for us today.
The group asked me to add:
Please join neighbors of all faiths, as we reflect on recent acts of hate that have taken place. The tragedies at the mosques in New Zealand and other recent incidents such as the shootings at The Emmanuel A.M.E. Church in Charleston, South Carolina and at the The Tree of Life Synagogue in Pittsburgh, have deeply affected us all. We will come together as a community to honor the victims and renew our commitment to a culture of peace and respect.
The film's website describes:
The Sultan and the Saint tells one of the great, lost stories from history. Set in a past period of East-West conflict, it speaks with urgency to our present. Two men of faith, one an itinerant Christian preacher, the other the ruler of a Muslim Empire, bucked a century of war, distrust, and insidious propaganda in a search for mutual respect and common ground.

It is the story of Francis of Assisi and the Sultan of Egypt, and their meeting on a bloody battlefield during the period of Christian-Muslim conflict known as the Crusades. . .

Not only does it speak directly to the conflicts of today, the story itself is very dramatic with many fascinating twists and turns, and with central characters who are more compelling than even their legends claim.
Updated (3/19/19 8:16 am): I inserted the "Please join neighbors" paragraph to the invitation at Neighbors for Peace' request.