Town facilities, fields, and trails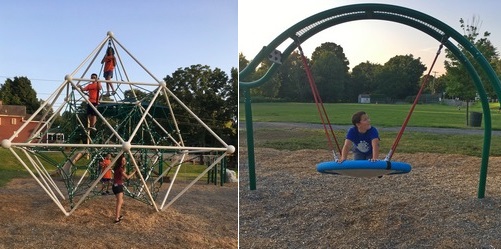 Are you new to Southborough? Still trying to get the lay of the land? Here's where to find town buildings, facilities, fields, playgrounds, and trails.
Recreation fields and facilities
Athletic fields and facilities
All indoor facilities require special reservations and are generally for town sports.
Town owned outdoor facilities are open to any residents for free recreational use (not classes) when they aren't in use by a town team or Rec class. (They can also be reserved for classes/leagues through Town Rec):

Tennis Courts
Baseball and Softball Diamonds
Athletic Fields (for soccer, lacrosse, etc.)
Sand Volleyball Court
Picnic Pavilion (temporarily closed)
Skate Park (for rollerskating, rollerblading, and skateboards)
Outdoor Ice Rink (when conditions allow)

Town Rec has an updated facilities list, but it includes private properties used for some classes and not generally accessible to Southborough residents. (Plus, it's not detailed).
This older, detailed list may be more useful, as it doesn't include those private properties, but some of the information is outdated/incorrect. Note clarifications below:

The Sand Volleyball Court is at Neary School, not Woodward
The Skate Park isn't on the list, but is located in one of the Finn School Tennis Courts
The Outdoor Ice Rink is at Woodward School when conditions allow, not Neary
9-11 Field isn't owned by the Town – it is leased from Mass DCR with restrictions – access is restricted to use between April-October and by permit only.
Public playgrounds
Southborough Arts Center – 21 Highland Street
Town House/Pilgrim Church (aka the Tot Lot) – 17 Common Street (This little playground for tots is tucked back behind the parking lot)
Harold E. Fay Memorial Field & Playground (aka Fayville Playground) – Central Street
School playgrounds (These are closed to the public during school hours, but otherwise open to the community.)
Walking Trails – Here's the official map from the Town. (Note: Sometimes maps are outdated as trails can change. Please follow signage instructions onsite.)
Find more details on Southborough Trails Committee's website.
Town buildings/facilities
(Town Departments with contacts and websites are listed here. This is to help you find the buildings you're looking for.)
Landmarks in town
(Think there's something missing? Shoot an email to mysouthborough@gmail.com.)