The local behind the blog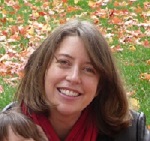 Who I am
I'm Beth Melo of Southborough. It is the only place I've ever considered my hometown.
Drop me a line!
Got a story idea? Have an event you'd like to publicize? Have some great photos to share? Interested in advertising on My Southborough? Just want to say hello? Send me an email to mysouthborough@gmail.com.
A little help
This summer, I'm getting some valuable help from an intern, Alyssa Borelli. (Scroll down for her story.) (Note: For anyone worrying about confidentiality – Interns can't access comments or mysouthborough@gmail.com.)
My story
I lived here as a kindergartner. Before and after, my family moved around quite a bit. We returned when I was 12 years old and finally set down some roots.
My Southborough "street cred":
• I used to walk across St. Mark's golf course to attend Woodward Middle School.
• I went to Algonquin – though I once got lost on the way. (Don't ask)
• My first job was picking apples at an orchard in town – didn't last long.
• My second was working at the library – when it was half the current size.
After high school, I headed off to Providence College and various marketing and PR jobs.
When it came time to buy a house in 1998, this is the town where my husband and I decided we would want to raise our children.
When we moved in, I was surprised to realize that I no longer felt a sense of community. Eventually, having children and joining organizations helped me make new friends.
My history with the blog
It was when I discovered Susan Fitzgerald's My Southborough that I really started to have a deeper sense of community. I loved reading not only about all that was happening in town, but the passionate debates around local issues.
When my friend Susan suggested that I write a blog about children's books (my passion), I told her no way. I could never handle a blog, but I'd be happy to contribute articles to hers. She accepted.
Two years later, Susan announced she would be leaving the blog. She hoped she could find someone to take it over. Now here I am.
I hope to continue what Susan started when she created My Southborough. This should be a place to share news, debate issues, support each other in crisis, find out about events in town, and, hopefully, have some fun.
I'll publish new stories on the blog several times a day during the week, so check back often. I don't typically post on the weekends because even bloggers need a break.
My intern
I asked Alyssa to share a little about herself. (Including her impressive "Southborough street cred"):
People in town might know me as one of the Borelli twins. When I was younger, my Grampy would pull my twin brother and I around town in a red wagon. We were frequently stopped by residents and had our fair share of photo ops in the MetroWest Daily News growing up.

Southborough is the only place I've ever known; it's in my blood. My lineage extends many years in Southborough's history. . .

My great-great-grandfather, Venacio Borelli, owned an apple orchard before the Mass Pike was built (where Walnut Drive is now). His son, Primo Borell I, was a chauffeur for Burnett family, as his second job. My grandfather (Primo Borelli II) was a carpenter in Southborough and owned a gas station where the vacant lot across from Marlborough Savings bank is now. My grandmother on my mother's side (Alice Ciccolini-Benedetto) grew up in Fayville and was one of 25 of Peterson High School's (where the fire station is now) graduating class.

I ended up leaving Southborough to an even smaller rural town out of state, in Rindge, New Hampshire to attend Franklin Pierce University, after graduating from ARHS in 2011. I will be a senior in the fall. I'm studying mass communication where I expect to graduate in May with a Bachelor of Arts degree. My goal is to become a communications professional and work for a public relations firm in Boston after graduation.
Blog Origins
My Southborough was founded in 2008 by Southborough native Susan Fitzgerald. Susan retired from the blogging life in 2013.