From the comfort of my couch, yesterday's storm didn't seem so bad. But apparently, it was enough to cause some issues on the roads. The Southborough Fire Department responded to two motor vehicle accidents yesterday – one on I-90 and another on Southville Road. Both accidents were attributed to winter weather.
Shortly after noon, firefighters responded to a vehicle vs. tanker truck accident on the Mass Pike westbound just before Woodland Road. Five people were injured and four were transported to local hospitals with non-life threatening injuries.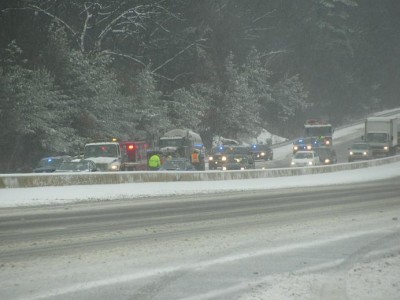 Later in the afternoon at around 4:30 pm, a car slid off the road on Southville Road, struck a rock and rolled onto its side. The two occupants were trapped inside the car. An off-duty Northborough firefighter at the scene helped stabilize the driver, and both occupants were taken to Metrowest Hospital Framingham with non-life threatening injuries. Southville Road near Parker Street was closed for nearly an hour while the occupants were removed and the vehicle towed away.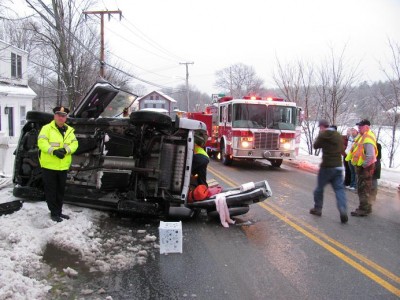 See more pictures of the Southville Road rollover on the Southborough Fire Department website.