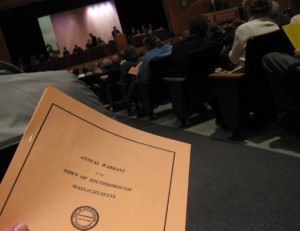 Town meeting day 2 got started at 7:40 pm (scheduled was 7:30 pm), with a noticeably lighter attendance than the first night. The biggest shocker for me? No Girl Scouts selling snacks in the lobby like on day 1. And I was totally jonesing for a brownie.
The good news is voters made it through all remaining articles tonight. The big items on the agenda were how to assess debt from the Algonquin renovation, capital items for the schools, DPW, and police, and a number of Community Preservation Act articles.
Monday night's vote to accept a higher assessment on the Algonquin budget had repercussions tonight. To get back to a no-tax-increase budget and offset the additional $223K approved last night, the Advisory Committee asked voters to spend down the town's stabilization fund on several articles instead of raising money through taxes.
Town Meeting voted to use stabilization funds for maintenance of town roads and to purchase new technology for the schools, but not for the maintenance of buildings and facilities.
The votes
Here's how the voting went on day 2.
Article 7: Algonquin debt assessment — AMENDED (to alter wording), then FAILED
Article 8: Maintenance of town roads — AMENDED (to pull portion from stabilization fund), then PASSED
Article 9: Capital items for DPW, fire, and police — PASSED
Article 10: Water tank improvements and meter replacement — PASSED
Article 11: School capital projects — PASSED (Trottier fire panel and Finn plumbing repairs only, others not voted on)
Article 12: School technology — Amendment to decrease amount to $64K FAILED; Amendments to decrease amount to $132K and use stabilization funds PASSED
Article 13: Building and facility maintenance — PASSED after amendment to use stabilization fund FAILED
Article 14: Fund for retiree vacation and sick time — PASSED
Article 15: Consultant fund — INDEFINITELY POSTPONED
Article 16: Transfer from Free Cash — INDEFINITELY POSTPONED
Article 17: Medicare for future retirees — INDEFINITELY POSTPONED
Articles 18-24: CPA items — ALL PASSED
Article 25: Revolving fund for certain town departments — PASSED
Article 26: Change to SHOPC membership rules — PASSED
The debate
As on Monday night, Algonquin assessments were a big topic. But this time, Town Meeting voted to stand behind the regional agreement for determining debt assessments. Unless Northborough reverses their position on this issue, we could be looking at some litigation on this one down the road.
Whether or not to spend down the stabilization fund, also called the rainy-day fund, was a point of contention. Many voters felt that "rainy day" is now, so instead of raising taxes we should spend some of the $1.56M in the stabilization fund. Others wanted to reserve the money for capital items that might come up in the fall like a new ladder truck. In the end, Town Meeting voted to use a total of $290K from the stabilization fund for town roads and school technology.
Other points of discussion came around whether to spend $40K to do a risk assessment of the PCE leak on DPW property (passed), how much school technology to fund (a compromise amount of $132K), and whether to allocate $166K toward further restoration of the South Union School (passed).
Town meeting 2009 was dissolved at 10:20 pm with thanks to all who participated and shared their thoughts.
I'll dig into the Algonquin debt assessment and stabilization fund discussions in future posts.
Related stories:
Town meeting day 1: A recap
Town Meeting agrees to pay higher Algonquin assessment