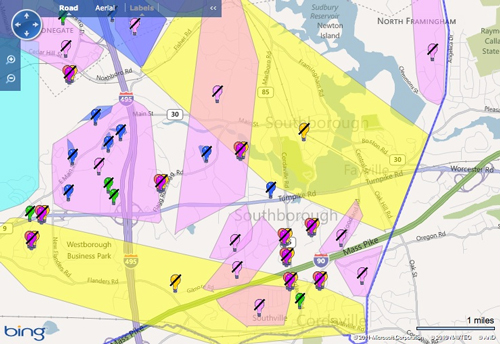 After a "historic" October snow storm that knocked out power to most of Southborough, the lights – and more importantly, the heat – are starting to come back on.
At the peak of the outage, National Grid reported 3,701 of its 4,020 Southborough customers were without power after 4 to 6 inches of heavy, wet snow fell Saturday night and into Sunday, bringing down leaf-laden branches and trees. Power outages left many residents without heat as temperatures dipped into the 20's on Sunday night.
Power began being restored to Southborough residents on late Monday afternoon, with areas on both the north and south side reporting the lights were back on. But not everyone has their power back, and National Grid said some may have to wait until end of day Thursday. In particular, some homes near Finn School were still in the dark this evening.
School was canceled on both Monday and Tuesday due to "power outages and storm-related difficulties," Superintendent Charles Gobron said. Safety issues also prompted officials to postpone Halloween trick-or-treating until Saturday, November 5.
Downed trees and power lines closed a number of streets in Southborough. Notably, Boston Road (Route 30) was closed east of Central Street from Saturday night until this evening after a "massive" tree fell and took out at least one power pole. A few secondary roads remain closed tonight due to downed wires.
For a play-by-play of the storm and its aftermath, check out the Snowtober live blog here. Now that I've been restored to full blogging capacity, I'll be back to my normal posting schedule on Tuesday.
Update 8:45 pm: National Grid reports 1,029 customers in Southborough are still without power. My Southborough readers say the following roads are still in the dark: Skylar Drive, Sunrise Drive, Breakneck Hill, Sarenstone Way, Ashley Road, Fairview Drive, Atwood Street and portions of Parkerville Road (south). There are also isolated outages on Bigelow and Ward Roads.
Update 11/01 8:30 am: The number is down to 285. See this post for more details.
Update 11/01 11:00 am: The number is up to 616. See this post for more details.