[This is the latest in an occasional series by Beth Melo, a Southborough mom who loves to read to her kids. This post was originally published on the Southborough Library website, and has been reposted here with permission. For more of Beth's book recommendations, click here.]
Resolving to Have a Healthy Family
I'm always struggling to make nutritious dinners that don't end up in tantrums. (By tantrums, I mean the ones I throw when my son refuses to eat his dinner.) This year I'm resolving to somehow get my son to eat his meat and vegetables without either of us screaming or crying, at least most of the time.
I managed to get through this stage with my daughter. I know that my son is more stubborn, but this is why it's a resolution – I need to work seriously on changing his mind-set. So I'm arming myself with books to help along the way.
While part of the food struggles are obviously taste and texture, part is also perception. I know this is going to be a long struggle, not a quick fix. Occasionally, books can be a big help in setting a positive attitude before the meal hits the table.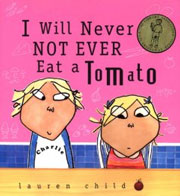 Picky/Stubborn Eater stories – I have a persistent hope that reading about picky eaters who discover yummy foods will have an influence: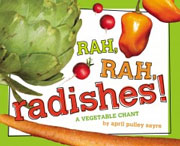 The Dreaded Vegetables – These books are ones I'm using to try to convince my son that vegetables can be yummy, or get him to choose one to try.  There are a ton on this subject, but most aren't convincing. These are the ones we liked best: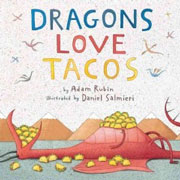 Expanding the palate – I can only get so far by focusing on getting him to eat a vegetable. And of course I need him to eat some meat. About the only kids books I can find about eating chicken are ones where the chickens outwit an evil fox. Not exactly what I'm looking for.
If I can get him to try a new "exciting" dish that combines healthy ingredients, I hope to make progress. Focusing on another culture can persuade the kids to try something new. Here are some books that have actually worked a little and others I'm working with now:
This last strategy really does seem to work the best – so if anyone has other books to recommend abut or including foods of other countries or regions, please share by posting a comment.  I'm always looking for new ones like these to try.
If you have a picky eater, I hope some of my suggestions help.  As always, if you have any questions for me, feel free to e-mail becmelo@yahoo.com.