Here are the weekend events highlights.
Friday, February 28, 2014:
SEF Spelling Bee (6:00/7:00 pm) @ Trottier Middle School: Annual family friendly fundraiser by the Southborough Education Foundation. Teams from the community participate.The moderator gives the word and each community team works as a group to decide their spelling of it. The audience is encouraged to to test themselves by silently spelling along in their booklets. Attendees are also encouraged to participate in a raffle and silent auction. Doors open at 6:00 pm for the raffle and silent auction. The actual bee begins at 7:00 pm with the end time depending on how long the spellers last. Attendance is $5 per person or $10 per family.
Saturday, March 01, 2014:
Mr. Magic's Magic Show (10:00 am – 11:00 am) @ Fay's Primary School, 25 Middle Road: Mr. Magic has been amazing the young and old for 35 years with his dynamic repertoire. Kids can participate throughout the performance and will get to meet Mr. Magic's animal assistants. Event is free, but space is limited. Register by clicking here. (Photo from Mr. Magic's gigmasters page.)
Southborough Democrat caucus (1:00 pm) @ Trottier Middle School cafeteria at 49 Parkerville Road: Caucus to elect Southborough delegates and alternates to the 2014 Massachusetts Democratic Convention in June. Delegates will be divided equally between men and women. All town residents registered as Democrats by January 31 can vote or run. Ballots will be secret. Those not elected may apply to be add-on delegates in the following categories: youth, minority and disabled. For more information, contact Susan Ruane at 508-460-0830.
Sunday, March 2, 2014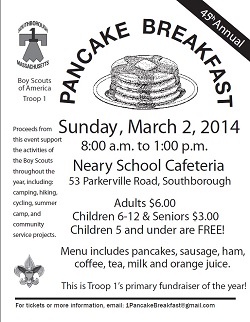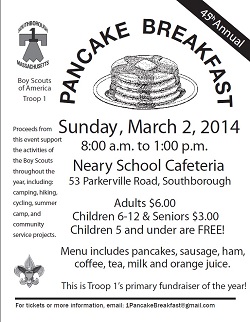 The 45th Annual Troop 1 Pancake Breakfast (8:00 am – 1:00 pm) @ Neary School cafeteria: The annual fundraiser is used to support troop activities, including community service projects. Don't worry if you missed the scout at your door. You can buy tickets when you get there. $6/adult, $3/senior, $3/child 6-12, free for 5 and under. Click on flyer for details.
For more details and the full list, check the Event Calendar.