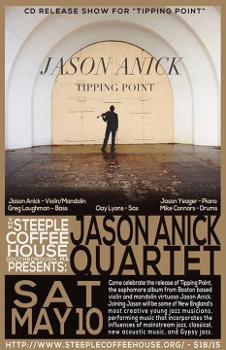 The Steeple Coffehouse will host a CD release party for Jason Anick on Saturday, May 10. The Quintent/Quartet* features:
Jason Anick – Violin/Mandolin
Jason Yeager – Piano
Greg Loughman – Bass
Mike Connor – Drums
Clay Lyons – Sax
Anick describes their musical style as "jazz without borders":
What the axiom means to Anick is a contemporary jazz that is stylistically inclusive in nature, a jazz that brings whatever it can to the party, unwilling to cut something out of the mix for fear of it not fitting prescribed boundaries. . .

Blending Anick originals that openly incorporate the influences of mainstream jazz, classical, new acoustic music, Gypsy jazz, swing, and hard bop with a wide-ranging swath of jazz classics, Tipping Point declares that for open-eared members of the 28-year-old string master's generation, musical exclusion is a dead end. What tie together the various strains of Anick's vision are his extraordinary command of his chosen instruments and the spirited contributions of the like-minded players that accompany him on this musical journey.
The performance in Pilgrim Church's Fellowship Hall is at 7:30 pm. Doors open at 7:00 pm. Tickets are $15 in advance ($12 for students/seniors through Brown Paper Tickets) or $18 at the door ($15 for students/seniors). 
Proceeds from the refreshment sales are donated to local and regional charity. As is their tradition, organizers are also requesting people to bring donations for the Southborough Food Pantry.
For more details, visit the Steeple Coffeehouse website (steeplecoffeehouse.org).
*The website says Quintet, while the poster listing 5 performers says Quartet. So, I'm covering all bases!