The ARHS spring musical, The Apple Tree should prompt some serious laughs next week.
The play is comprised of three short stories:
The Diary of Adam and Eve
The Lady or the Tiger
Passionella
Although a musical comedy, it's underscored by a sobering theme.
In each act, characters are faced with the unexpected outcomes of following their desires.
Director, Tom Alera writes:
Each year the goal of the spring production is to tackle challenging works that make a difference, that cause us to think about our place in the world, and help us to look at issues and theater that matters.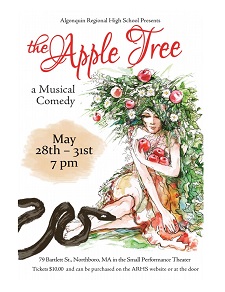 The cast and crew should be up to the task. Many of its members were involved in Damn Yankees last fall. That production just garnered several awards. (Click here to read more.)
The performances will take place from May 28th to May 31st at 7:00 pm in the small performance theater.
Tickets cost $10 each. You can purchase them at the door or in advance at the school's front office.*
To help fund ARHS' musical productions, you can also enter their 60/40 raffle each performance night.
*Although the poster refers to online ticket purchases, they have been experiencing some technical difficulties. If it does become available, I'll update the post with that link.