Here are highlights of what's happening around town this week. For more details and the full list, check the Event Calendar.
Updated (12/9/14 10:40 am): Thursday's author night is cancelled.
Wednesday, December 10, 2014:
Spinning Science (3:45 – 4:45 pm) @ Southborough Public Library: Have you ever wondered what keeps you in your seat when you're riding a giant loop-de-loop roller coaster? Kids love to spin! Come discover the science behind spinning and balancing. We will learn about centripetal force, center of gravity, counterbalance, inertia and more! Kids will learn how spinning and balance work in real world. This program is for children ages 6 to 10 years. Space is limited and registration is required.
Southborough Historical Society Sale (6:00 – 8:00 pm) @ Southborough Historical Museum, 25 Common Street: A special "one night only" sale with refreshments. See dedicated post for details.
Thursday, December 11, 2014:
Legos at the Library (3:45 – 5:00 pm) @ Southborough Public Library: Children are welcome to come build with Legos, and display their creations in the Children's Room. Legos will be provided, but all materials need to remain at the library. Parents or caregivers must stay with children during this event.
Representative Dykema's Southborough office hours (8:00 am – 9:00 am) @ Red Barn Coffee (West) 205 Turnpike Road: Representative Dykema is holding her quarterly office hours. Residents are encouraged to stop in to the office hours to share concerns, questions and opinions on state issues or simply to chat over a cup of coffee.
Jingle and Mingle party for toddlers (10:00 am – 12:00 pm) @ South Union Building, 21 Highland Street: Southborough Recreation party for 5 and under with Caregivers Free event (with Special Guest to be announced) Includes caroling, holiday crafts and treats. (This will take place of regular Toddler Time free play)
Pilgrim Church Senior High Youth Group — Baby Sitting Drop and Shop! (5:00 – 8:00 pm) @ Pilgrim Church, Fellowship Hall, 15 Common Street: Drop off babysitting event for kids 4-11 years old. All proceeds benefit the Pilgrim Church Youth Group (PCYG) Mission Trip Fund. See dedicated post for details.
Saturday, December 13, 2014:
Christmas Time Show at Reagle Theater (10:45 am – 4:00 pm) @ Bus to and from the senior center: A bus trip to see the holiday musical extravaganza in Boston. Pre-registration required. See dedicated post for details.
Holiday dance show for St. Jude's Hospital (2:00 pm and 4:15 pm) @ Grafton Municipal Center, 30 Providence Rd, Grafton Ma.01519: Patricia Brosnihan Dance Center's Annual Holiday show and benefit Enjoy free performances by the center's students (including Southborough residents). They will be collecting (optional) donations for St. Jude's Chilldren's Research Hospital. See dedicated post for details.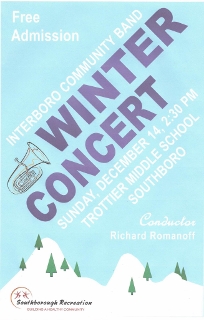 Sunday, December 14, 2014:
Interboro Holiday Concert (2:30 pm) @ Trottier Middle School: Join the Interboro Community Band for a FREE concert This family event will feature some well-loved pieces such as the King Cotton March, Holst's Second Suite and the British 8th March as well as some lesser know, but very enjoyable works. Refreshments will be availalbe at intermission.
Heritage Chorale's Heritage Christmas (4:00 pm) @ St. Mark's School: 

The 90 member Chorale will be performing with the Gainsborough Brass Ensemble, bringing music from the Renaissance through today, with well-loved Christmas music and sing-a-longs of familiar carols. It's 

appropriate for ages 9 – adult. Ticket prices range from $10-$25 with a deal for 4th-8th grade students to attend for free. For details, see dedicated post.